1980 All Over Again
This week I got a "Movie Maker" magazine from the UK, that I bought off of eBay. It's from 1980. It's a magazine that covers the amateur filmmaking movement. This particular edition incorporates writing talent from what seems to be a merging of two to three different magazines. In other words, this is one of the first issues where Amateur Cine World and 8mm Movie Maker and Film Making (or just Film Making) magazines are combined into one magazine. It's a British magazine and has UK ads in it.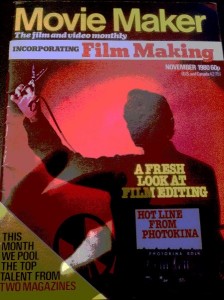 It's very intriguing in many aspects. The first page is numbered "793″ and continues on to "884″. I gather this is a British convention, whereas, since this is issue No. 11, from a Vol. 14, that issue No. 1 would have started from page 1 and No. 12 will end in the 900′s. Looking at all the old gear and advices is mind blowing. It's like a history lesson. It's like what I should have been doing with my life in 1980. It may very well be what some of my older friends in the industry might have been doing in 1980.
As a late starter or a "late-comer" to this particular aspect of my life, I sometimes feel sad that I didn't do more, earlier in life in this field, especially since I had plenty of interest in it. Coming from the sane place I want to come from, in my heart, I try not to be too disappointed in this fact and try hard to just enjoy that I have arrived here and try to concentrate on all the good to come.
Another thing that's funny about this magazine is the line, "Twenty years ago, when amateur movies were experiencing their biggest boom…". That means in 1960! Full disclosure, I was born in 1967.
The 1980 magazine talks a lot about Super 8 and 16mm but remember VHS and Star Wars have been around a few years by now. "Video" though was a thought as there is a review of a VHS recorder in the mag. It kind of reminds me of the Film vs. Digital talk of recent years.
There's a ton of cine clubs listed in the mag too. Ah! Remember clubs? http://wordpress.quintessentialstudios.net/?p=350
The main reason I bought the magazine was the article title on the cover, "A Fresh Look At Film Editing". The article turns out to be the first in a series on film editing by none other than Bernard Ashby. At the time, Ashby is credited with "…currently heading the team responsible for editing and dubbing Shoestring." (for BBC Television.) The title of the article in the pages of the magazine is "A Matter of Choice" and this part, "Part 1: Choosing the Shot". The advice in here is amazing! (I think I could copy the article for educational purposes and not violate any copyright laws, right? I'll look into this and see what I can share.) I love the line "Don't be afraid to experiment, however. Faint heart and feeble 'scissors' will never win a Ten Best Oscar."
This magazine reminded me what it was like to be 13 all over again and of some of the ideas and reasons why I love film. It spawned my search for the Monster Makeup book that I have been trying to remember that I owned as a kid. And now I found it!