40 years ago ACE started the Student Editor Program/Competition
As probably one of the oldest editing students in existence, (I'm a late bloomer. What can I say?) I am challenging myself to do and learn all I can in this field that has captured my heart and soul. For the past almost five years, I have been taking college filmmaking classes, starting with my first editing class on February 18, 2008.
I have been to many events and have met many award winning editors, including Eric Kench who took home the Student Editing Award last year:
http://www.youtube.com/watch?feature=player_embedded&v=jCxQy_nVvkc
In my pursuit of editing knowledge, I recently made an eBay purchase of old American Cinemeditor magazine, the then ACE publication, and I found this among it's pages: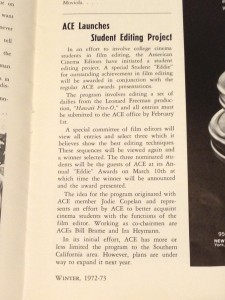 Photo from the Winter, 1972-73 American Cinemeditor Magazine
So, forty years ago (I was five-years old) this competition began. 'Could it be an omen? I hope so!
Either way, I'm proud to be participating in the competion this year and being a part of such a rich history of cinema editing. This upcoming ACE Eddie awards is February 16, 2013, almost exactly five years since I started this journey!
Congratulations to all the participants this year and years past, I am humbled and honored to be in your company.